About the Water Tower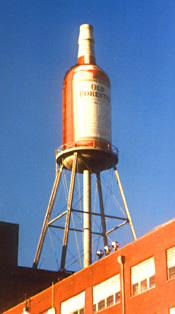 The Brown-Forman watertower is located just west of downtown Louisville at the corporation's headquarters on Dixie Highway, just south of Broadway, in a historic spirits and tobacco manufacturing district. The watertower was originally constructed for fire protection purposes.


Since this photograph was taken in 1996 (right) the tower has been re-painted four times, in 1998, 2003, 2012, and again in 2016, to reflect Old Forester package redesigns, and later a problem of the paint's failure to adhere to the metal.


It's no doubt the largest bourbon bottle replica in the world.


According to corporate history, Old Forester Bourbon is America's first bottled bourbon, produced continuously in Louisville since 1870, even during prohibition. It was the first bourbon that met medicinal standards - and was sold in sealed glass bottles to assure its quality - an innovative approach at a time when whiskey was dispensed directly from the barrel.


Bourbon whiskey, which by U.S. law, contains at least 51% corn, 15-20% rye, and 10-15% barley, is always aged in new, charred, American white-oak barrels.


The photograph used on this site was taken in 1996, the year this site was created. The watertower was chosen as an icon for the Links @ Louisville.KY web site because it is a little known artistic landmark that relates to the great history of Louisville's past.


The author of this website receives no compensation, recognition, or response from the fine folks on the receiving end of the promotion of their products.


Thanks for visiting Links@Louisville, where you are totally on your own regarding social responsibility.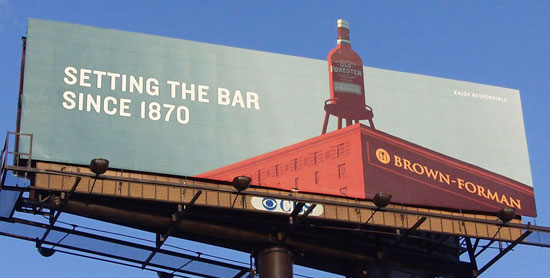 17 years after B-F questioned me about the use of my image of their
watertower on my website they've apparently decided it's iconic after all.
This billboard appeared in Louisville's Spaghetti Junction in March, 2013,
in a location always reserved for Maker's Mark boards, the same month
Maker's decided not to water down their product. I'm honored.


Links of interest

Bourbon Whiskey - Wikipedia

The Louisville Bourbon Experience - PDF

Brown-Forman

Old Forester

Kentucky Distillers' Association

Straight Bourbon

BourbonEnthusiast.com

Blue Grass Cooperage

Kelvin Cooperage

Artistic Water Towers

...back to Links @ Louisville